Posted by Jewelry Liquidation on 10th Mar 2022
Why You Should Get a Promise Ring
Promise rings are one of the oldest concepts to symbolize commitment and assurance. Although many people associate promise rings with teenagers, puppy love, or abstinence, they serve more of a significant purpose.
A promise ring for her means you give a physical and outward symbol of your fidelity and commitment. The gesture and meaning of a promise ring are more profound than many think. They are suitable for many couples, regardless of age or relationship status.
A promise ring means your relationship moves onto the next level in the simplest terms. It signifies graduation of relationship status from merely dating to a deeper level of commitment. It speaks of the relationship you are determined to protect and nurture. With a promise ring, you announce to the world that your heart belongs to someone.
A promise ring symbolizes a long-lasting relationship. Today, many people give promise rings as a precursor to an engagement ring, but that is not always the case. Couples that do not believe in marriage but want to show their commitment to one another may present a promise ring.
If you plan to get married one day, you can still wait for the right time and get a sapphire ring, like this 10-k or 14-k yellow gold mystic topaz one, to symbolize your commitment. Several factors make a promise ring the go-to move for some couples before taking the next big step.
Your finances, age, and geography all play essential roles. For instance, a couple dealing with law or medical school may feel more comfortable with a promise ring before taking the big, bold step with an engagement ring. Also, those financially incapable of marriage may still desire to take their relationship to the next level with a promise ring.
If one member of a couple must spend months or years abroad, they can reaffirm their commitment to each other before embarking on a new phase. Further, teenagers in love and determined to spend the rest of their lives together can use a promise ring.
By doing so, they confirm their love for each other as they are not mature enough to take on the responsibilities and adult aspects that come with marriage and cohabitation. In all scenarios above, a promise ring is an excellent way to reaffirm your love and commitment to each other without kicking off the wedding train.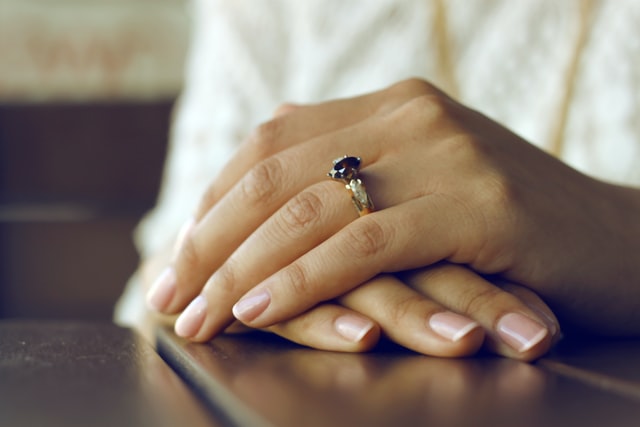 The History of Promise Rings
The concept of a promise ring traces back to the Roman era. The Romans had to wait for a specified period before getting married during that era. The couple gave each other rings to signify their commitment during the waiting period.
Then came the romantic posy ring in the 14th century. Lovers of this era would wear the ring to symbolize affection between them. The posy ring was a band with a short poetic phrase engraved to signify romantic feelings. In the 19th century, promise rings were revamped and became acrostic rings. The ring cleverly spelled out words like "regard" and "dearest" in gemstones.
Promise rings as steppingstones or pre-engagement rings are modern. As the courtship period grew longer, many people have produced ways to guarantee the person they are with that they are just as committed to the relationship.
How Does a Promise Ring Look?
No fixed rule dictates the looks of a promise ring. Promise rings are available in several styles and look. They explicitly tailor the promise ring to the wearer and the couple. The ring should not be over-the-top as they wear it daily. It should also speak to the couple. Some of the popular promise ring styles are:
More Miniature Diamond Rings: Since diamond rings have associations to engagements, smaller diamond rings can also serve the purpose of a promise ring. These kinds of rings hint at a future marriage proposal. This round traditional solitaire promise ring is perfect for anyone. It is customizable with either white, yellow, or rose metal color and comes in either 10-k or 14-k gold.
Simple Bands: Simple bands are a great idea to reaffirm commitment to your partner. You can engrave the band with initials or set it with precious metal, depending on the taste and style of the wearer. A lovely option can be this high polish band, accented by a beautiful rope design at its center, making it a perfect everyday look that can match any look.
Birthstone Rings: Offering the wearer a birthstone is ideal for longevity. They can wear the ring with the engagement ring to come. Suppose the person in your life is born in February. In that case, this gorgeous, eye-catching genuine accented solitaire ring, which has a stunning amethyst natural birthstone set atop and made with only real yellow gold, can be the perfect piece for them. This floral flower ring made with real gold and a citrine natural gem at its center is sure to impress those born in November.
Cluster Rings: You can group several stones that sparkle like an engagement ring. But these rings do not try to stand in the place of an engagement ring. This cluster sparkly band ring is an excellent choice.