Posted by Jewelry Liquidation on 30th Apr 2022
Gold nugget rings are classic jewelry pieces that are designed to give an overall natural, gold nugget look. Nugget rings are different from other rings in that they need to be cast in a specific way to highlight the natural beauty of the gold flakes in the design. These rings were originally created to give a textured look in a naturalistic style.
Gold nugget rings are particularly great jewelry pieces for men, as there are a variety of selections and styles to choose from. Once more, these rings can also make for a great gift for any occasion. What should you look for when buying a gold nugget ring? And how can you find the right men's ring size? In this guide, we will answer these questions and more on buying gold nugget rings for men.
What To Look For In Gold Nugget Rings
When it comes to choosing nugget rings, here are several things that you may want to consider:
Quality
One of the first things to take into account when looking for a gold nugget ring is the quality of the ring itself. Here are a few factors that can help determine the quality of a nugget ring:
The Type Of Gold Used In The Making Of The Ring: Gold nugget rings can come in a variety of different golds, such as yellow or white gold.
The Weight Of The Ring: The weight of a gold nugget ring is dependent upon the karats in the ring as well. The higher the karats within the ring, the heavier it will be.
Making sure that you have a good quality nugget ring is important, as it helps show the true cost or value of the ring overall. Not all nugget rings are made of gold. The most common amount of karats in gold nugget rings are that of 10k and 14k. Having a jeweler who knows the ins and outs of nugget rings can also help you choose a quality ring.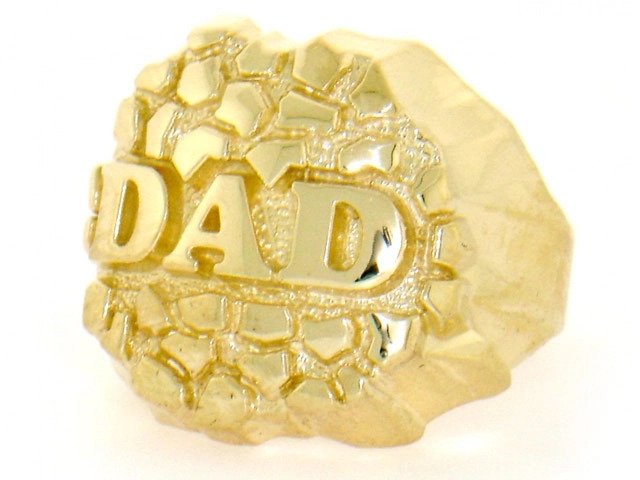 Style
Another factor to keep in mind is the style of the ring. When buying a gold nugget ring for yourself, you will want to get one that matches your personal style and preferences. However, if you are buying the ring for a friend or family member, you will want to keep in mind their style and taste. A gold nugget ring is a great gift option because it allows you to customize it accordingly.
Another option in choosing the overall style of a nugget ring is to have it connect or correspond with a special occasion. For example, this nugget ring would be a great option to give a father figure on Father's Day or another special occasion. Having a gold nugget ring relate to a special moment can add to the gift by making it a memorable treasure.
Budget
One of the most important things to consider when looking for a gold nugget ring is your budget. Nugget rings can get expensive, depending on the materials used within the ring. Again, the higher number of karats the ring has, the more expensive it will be. Also, the type of gold can impact the cost of the ring itself. Choosing a quality jeweler, such as Jewelry Liquidation, can make all the difference, as they can provide you with several options to make getting a gold nugget ring work for you!
How To Size A Gold Nugget Ring
Knowing the correct ring size is essential before looking for nugget rings. This is to ensure that the process of searching for a ring will go much more smoothly. This is especially true when purchasing a gold nugget ring as a gift. At Jewelry Liquidation, we offer a free, printable, ring size guide to help you figure out your ring size as well as the ring size for the person you are gifting the ring to.
Conclusion
Adding a gold nugget ring to your jewelry collection can add a stylish, classic vibe to your look. These rings can also be the perfect, meaningful gift that can help show how much you appreciate someone. Men's gold nugget rings are strong, durable rings that will last for years to come, making them ideal gifts and jewelry pieces!
At Jewelry Liquidation, we strive to offer the best jewelry pieces at affordable prices. Our goal is to help you find that perfect jewelry piece for any occasion. To learn about purchasing gold nugget rings and more, contact us! Let's get started today in helping you find that perfect gold nugget ring!