Posted by Jewelry Liquidation on 1st Dec 2021
How to Wear Rings the Right Way
Many people wear rings in various ways and for different reasons. Though most people wear rings for fun, some may decide to wear one on a particular finger, such as the fourth finger on their left hand, to indicate that they are married or wear it on a different finger for an even different reason.
An individual's relationship status, style, beliefs, history, and more can influence what rings a person wears and determine the correct way to wear them. This article will help discover the right way to wear your rings.
Factors to Consider When Wearing Rings
Below are several factors to consider for wearing rings:
Significance of Each Finger
The finger on which a person wears a ring is essential, as it can say a lot about them, from their relationship status to information about their job. Let's explore what wearing a ring on a particular fingers means.
The left-hand ring finger is synonymous with romance in Western culture and can often indicate marriage, an engagement ring, or a promise ring. Moreover, wearing a ring on your left or right-hand index finger is a prominent place for showing off an accessory and can represent a person's social status, wealth, or leadership.
Wearing rings on a right pinky finger can potentially indicate a person's professional level. Generally, professional rings are simple bands of iron, silver, stainless steel, or other metal substances.
Your Style
Rings have evolved dramatically throughout time. As a result, there are various, unique styles to choose from. There is a ring out there that can suit just about anyone's style, whether minimal or dramatic.
For instance, you can opt for a multiple-finger ring if you are tired of traditional rings. Multiple finger rings are a type of ring people wear between or across two or more fingers.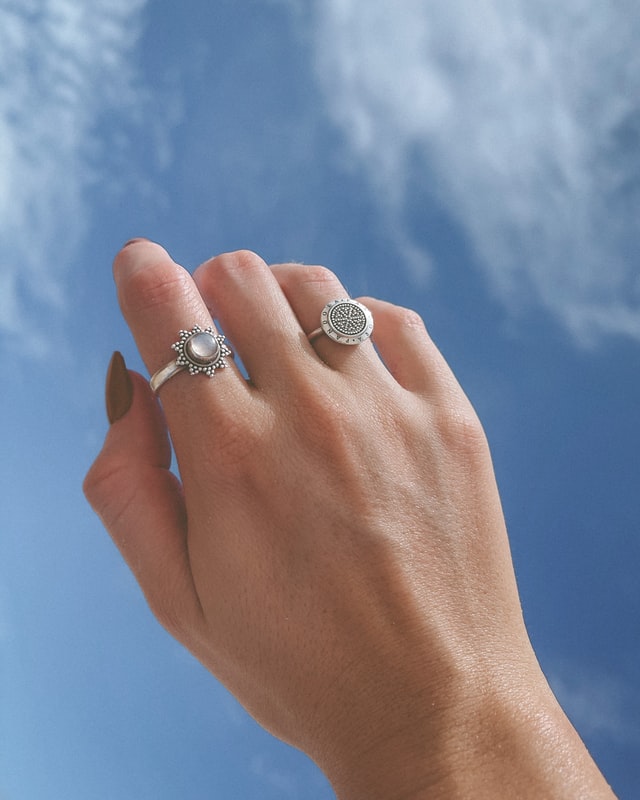 Ring Size
Another factor to consider in helping to find the perfect ring is size. Larger ones are suitable for large hands, whereas small ones best suit those with smaller hands.
Further, opt for thin and compact bands if your fingers are slim, but be sure to go for broader bands with fuller digits, as a very tight ring can prevent the proper circulation of blood and stop the skin from breathing.
It would help if you used a ring sizer to discover your exact size. But if you are getting a promise ring for her, you can always use a ring she already owns.
Complementing Other Accessories
Whenever putting on a ring, try to blend it with other accessories. Simple rings, like bands, complement other accessories seamlessly, and one can wear them with casual or formal wear. They can match with other accessories on the same hand, too.
Formal Features
Due to their bold appearance, statement or cocktail rings can serve as an excellent formal feature. You can wear one alone because they are usually larger than standard rings.
Although engagement and wedding rings have a formal appearance, you can still wear them with other rings. However, you should note that rings that feature precious stones are more suitable for formal events.
Ring Spaces
Avoid wearing too many rings at once. It would help to balance them evenly and ensure they are well spaced. If you are not used to wearing rings, you can start by using one as a small accessory.
Additionally, you can put on multiple rings and still appear attractive. A good way by which you can do this is to match a silver midi ring with a simple silver band.
Stacking Rings
Before going on to stack rings, understand the idea behind them. Ring stacking is a new trend, done by layering multiple bands over one another. The ultimate goal is to create a clustered effect. An excellent way to stack rings is to combine casual designs. However, remember to try and keep the style cohesive.
Statement Pieces
As the name suggests, these rings draw attention, which is why they are large-sized. You may wear one of these rings alone or match them with smaller, less flashy ones.
Though it is okay to combine different metals, matching two identical tones will provide an even better appearance. Putting too many pieces at once, such as gunmetal, silver, and gold, can be excessive.
Your Outfit
When thinking of the right ring to wear, consider your outfit. Check if your attire is casual or formal. The ring you wear should intensify the color scheme of your garment.
Additionally, the ring you choose should be a good match for other jewelry pieces you have. Try to unify all the jewelry you wear and opt for rings with similar colors. For example, match gold ones with a golden necklace.
Conclusion
Now you know everything there is about rings to understand how to wear them the best way possible. Head to Jewelry Liquidation if you are in the market for an incredible piece of jewelry.