Posted by Jewelry Liquidation on 5th Jan 2022
How to Pick Your Ring Size
Your ring size is a significant factor to consider before picking out a ring. There are several ways to find out your finger's ring size. Before you select your motion ring jewelry, you must first know the width of your finger. The varied sizes are:
Size 5 – 15.7mm
Size 6 – 16.5mm
Size 7 – 17.3 mm
Size 8 – 18.2 mm
Size 9 – 18.9 mm
Size 10 – 19.8 mm
Size 11 – 20.6mm
Size 12 – 21.3 mm
Size 13 – 22.2mm
If your finger does not comfortably fit with any of these sizes but is between two sizes, it is advisable to pick the larger size.
Using a Ring Sizer
A ring sizer is a plastic sheet that details a variety of sizes. Since jewelry stores sell rings, most will have ring sizers available. To figure out your ring size, all you must do is slide your finger through to find the right fit. Remember that it needs to fit comfortably. If it is too loose, it will easily slide off your fingers, and it can affect circulation if it is too tight.
Consider Resizing Your Ring
If the ring still does not fit appropriately after sizing your ring, you can always have the ring resized. If it gets tighter as time goes by, you should visit the professionals to have it resized. Many also come in half sizes, making it tricky to find a ring that fits you perfectly.
Using Self-Measurement
If you want to measure your ring finger yourself, it is best to do it when your fingers are warm and at the end of the day since the size of our fingers subtly changes as the day passes. Changes also arise due to activities you may do. The weather and your salt intake can also alter your finger size. Fingers are often smaller early in the morning and in the cold. To get an accurate measurement, you should measure several times during the day to get the most precise size of your fingers.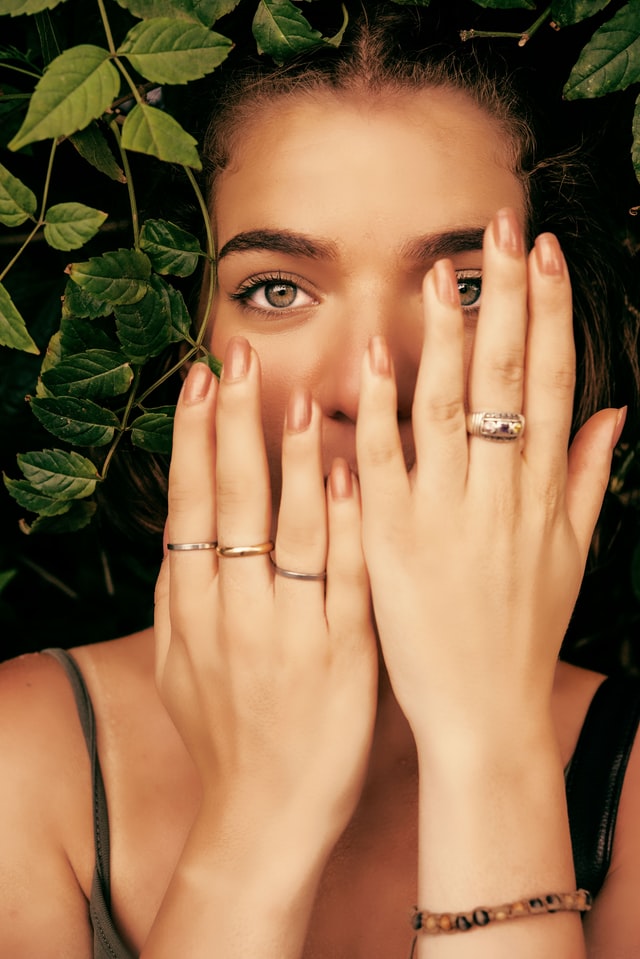 How to Wear Multiple-Finger Rings
Rings have evolved, and people no longer wear them on just one finger. They have spread over the hand, popping up between the digits. You can now straddle rings between two or more fingers cleverly and fashionably. These styles for wearing rings have been around for quite some time now, and it is safe to say they are here to stay.
Multiple-finger rings have various interpretations, such as stacking rings, wire-wrapped rings, and rings connected with chains. Many multiple-finger rings have unlimited design possibilities, gemstones, crystals, and other eye-catching embellishments. It is double the style, double the fun, and double as fashionable with multiple-finger rings. Also, it works on both males and females.
Toi Et Moi Rings
These multiple-finger rings might be new to some but have been used for quite some time now. The stones that stand for 'you and me' in French are allegedly the most romantic jewel of all time. The ring has the style, edge, and history of carrying such a mantle. It signifies two souls coming together to become one.
The style originated from the Toi et Moi rings of the late 17th century. The jewelry pieces were romantic, telling a story with the two stones featured and set side by side; 'One of the stones represents you while the other represents me.'
The beautiful tradition took off in 1796 when Napoleon Bonaparte, a revolutionary soldier in the French army, proposed to Josephine de Beauharnais with a sapphire and diamond Toi et Moi ring. A scant three weeks after the proposal, Josephine de Beauharnais married her beau despite the staunch disapproval of Napoleon's family about the union. The scandalous relationship and love for each other brought life to the ring. It provided a wider audience with the potential and symbolism that the ring represents.
With the changing years came a revamping of the ring into what we have today, as current versions go beyond the sedate pair of stones. Today, we now have bright gemstones and diamonds on the entire hand. Multiple-finger rings also come in varied designs and styles. Despite the ring's rich history, clever jewelers refuse to be limited. Their creative and innovative designs have brought a comeback to jewelry. The added magnificence and modernity to the ring have brought about a true classic.